Hi, hello, and welcome back to Elephant's climate-friendly home series! In each edition, we're breaking down simple steps you can take to reduce your carbon footprint so you can feel good in your home and feel good about your home. Here's what we've covered so far: 
Today, we're digging into rule number 3: Be efficient. This one's a biggun, so we've split it into two parts. Ready to learn about all things efficiency in your home? Read on. 
What "Be Efficient" Entails 
Imagine this: You're walking down a sunny street in your local business district on a warm summer day. As you meander past a store, you're met by a WHOOSH of blissfully cool air being pushed out to you on the sidewalk—their door is open and their AC is on full blast. While a delicious moment for you and your sweaty face, it's pretty awful for the store's climate impact (not to mention their energy bills). 
When we talk about being efficient, we're talking about NOT doing this. And believe it or not, if you haven't weatherized your home, you've probably been doing something similar the entire time you've owned your place. Every house tends to have leaky areas—where cold air is able to escape during the summer and heated air during the winter. The great news? By doing an energy audit and doing the necessary weatherization upgrades, you can put your home on the path to maximum efficiency. 
What It Looks Like in Your Home 
The first step to upping your home's efficiency is getting an energy audit. During an audit, an expert conducts a thorough inspection to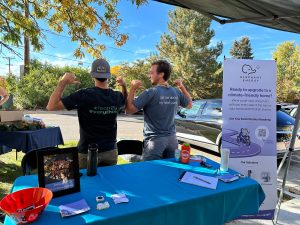 pinpoint precisely where there are inefficiencies (i.e., cracks, crevices, and leaks where air is escaping) throughout your home. This includes inspecting heating and cooling systems, insulation, window integrity, sealing, and more. 
Once you've completed an energy audit, you can make the weatherization upgrades that will have the greatest impact on ensuring your place is comfortable, efficient, and environmentally friendly—talk about a wins-all-around situation! 
Remember how we mentioned this rule encompassed a LOT? Though weatherization is a huge component of being efficient in your home, it's not the only component. Stay tuned for our next post in the series, where we'll dig into more ways to up your home's efficiency and make it as comfortable and climate-friendly as possible. 
__ 
Want to learn more about how to make your home as climate-friendly as possible? Our tool, Your Electrification Roadmap, gives you personalized recommendations based on your distinct preferences, goals, and needs.