We helped our customers, Jon and Rachel, to electrify everything in their townhome without upgrading their standard 100 amp service panel. The solution helped them to stay on budget, and avoid major logistical hassles. We recently interviewed them about their experience with our home electrification service.
Background
Jon and Rachel bought their townhome in Boulder, Colorado in 2020. Rachel is a high school math teacher and Jon works on the Electricity team at RMI, a non-profit think tank. The couple purchased their first electric vehicle in 2021, and started thinking about electrifying their home soon after. "We really wanted to get off of gas entirely. We felt strongly that it was the right thing to do from a climate perspective," Jon explained. "But we were also conscious about the cost associated with electrifying our entire home," he also added.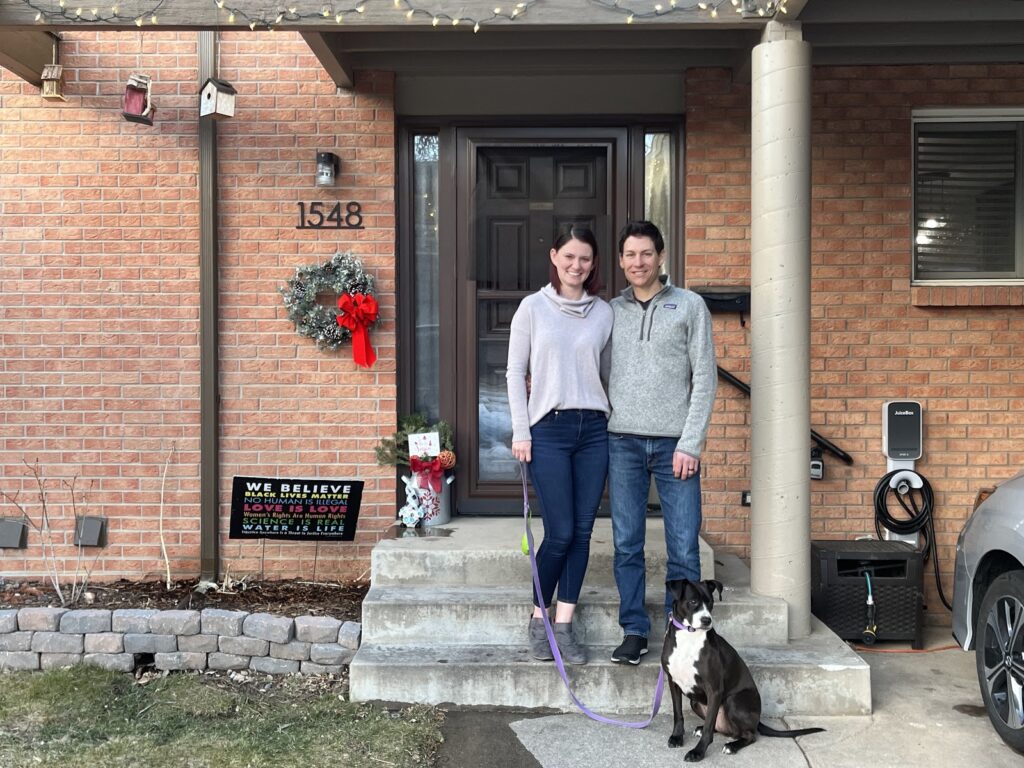 Approach to Home Electrification
Jon and Rachel started to look into potential partners for their home electrification project. This is when Jon came across Elephant Energy through a recommendation from a colleague. After an initial meeting with the Elephant team, Jon reflected, "I was really impressed from our first meeting. Elephant really came off as electrification experts and built trust within those first couple of interactions."
Rachel added, "We liked that Elephant coordinated all three home electrification projects at the same time, and managed the entire process, beginning to end. Since we're both quite busy, having a single point of contact for all the projects made any decision making or communication extremely easy for us rather than having to coordinate between four different contractors."
Home Electrification Solutions
Jon and Rachel decided to move forward with their full-home electrification project, which would consist of three upgrades. For context, Jon and Rachel already had an electric stove, electric dryer, and a standard (level 1) electric vehicle charger.
Heat Pump – Through an energy audit and heating and cooling load calculations, we designed a Heat Pump system to keep Jon and Rachel warm in the winter and cool in the summer. We selected a 3 ton, Cold Climate, Mitsubishi Hyper Heat Pump to replace the existing gas furnace and air conditioning system.
Heat Pump Water Heater – We selected a 50 gallon AO Smith unit with best in class features like a thermostatic mixing valve and expansion tank for safety, which is the highest efficiency, lowest total cost of ownership unit on the market.
High Speed EV Charging – We selected a Juicebox Level Two EV charger, which allows 4x faster charging than their original level 1 charger, and ensures that Jon and Rachel are prepared to fully electrify their transportation when they get an adventure vehicle (they're hoping for an electric truck!) in a few years.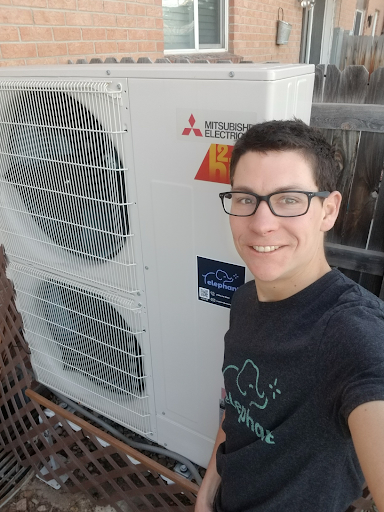 Making Full-Home Electrification Work
The key to success for Jon and Rachel's electrification project was finding a way to make all the above new electric technologies work – without upgrading their electric service from the standard 100 amps. In our experience, upgrading to a 200 amp panel usually costs between $6-10K and is sometimes not feasible for logistical reasons. In Jon and Rachel's case, the latter was a big concern – due to the configuration of their townhouse, upgrading to 200 amps would have required digging underneath the backyards of the three neighbors next to them. So, we needed a home electrification solution.
In this case, we used a product called a Simple Switch to enable full-home electrification without a panel upgrade. Many customers often think upgrading electrical service is necessary for full electrification, but it's not always the case. Basically, the Simple Switch prevents Jon and Rachel's circuits from overloading. It is because EV charging is paused if electric demand approaches the home's maximum.
We also deployed two monitoring solutions to measure system performance and safety:
SmartAC – Enables remote monitoring of heat pump system, ensuring home's heating and cooling needs are met from anywhere.
Emporia – Enables homeowners to see energy consumption on a circuit by circuit basis (and therefore energy savings). It is also confirms that Simple Switch is correctly limiting maximum current draw on the electrical panel.
The Results
So, how did it go? The couple told us, "Elephant Energy got us through 2022 supply chain issues, identified creative home electrification solutions, coordinated contractors, ensured high work quality, and kept prices below the bids we got when we asked contractors ourselves." Jon added, "We have been thoroughly enjoying our new upgrades!"
Jon and Rachel's heat pump has worked seamlessly through all weather conditions, including the recently -16 degree conditions the Boulder area encountered in December 2022. Rachel shared, "Our heat pump was great. It kept us plenty warm – honestly, it didn't feel different than any other day."
Jon concluded that, "all in all, it feels really good to have gone full electric – it's given me a lot of peace of mind knowing that our new systems are better for both our health and the environment".