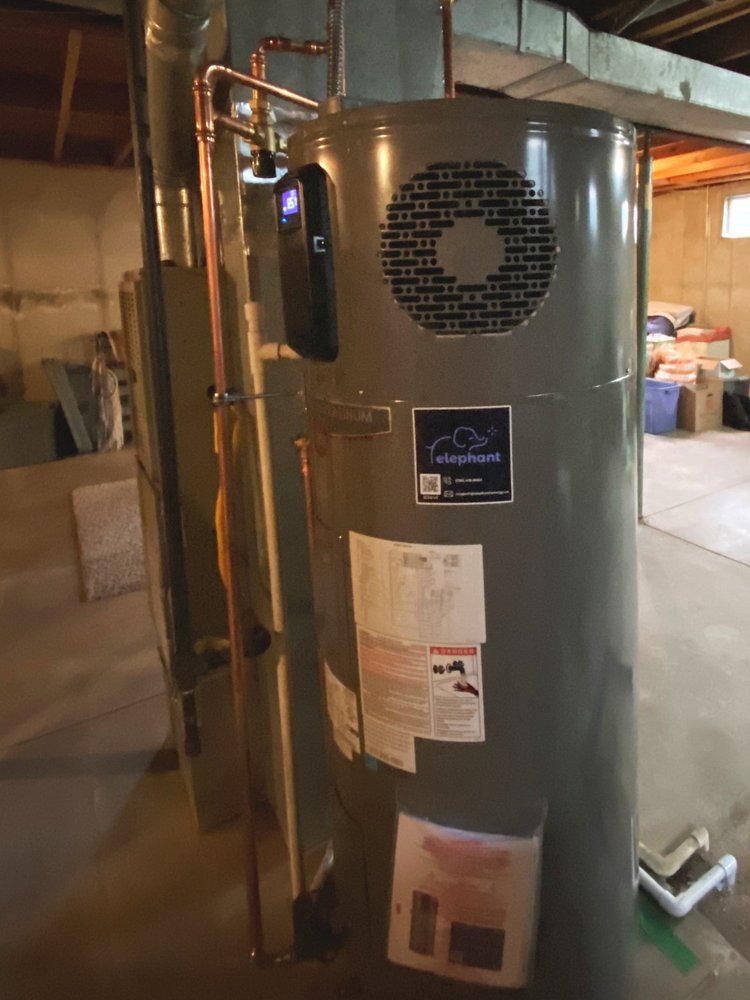 It feels like a perfect day to do a water heater repair and send another old, inefficient fossil gas appliance to the recycle yard.
To be replaced with a BETTER electric-powered Heat Pump Water Heater! Upgrade and modernize your home. #ElectrifyEverything #EnergyTwitter #HeatPumpCurious
Why is it better?
More Hot Water – As the family has grown, the water demands have increased so we installed a larger tank. Hot showers for everyone! And maybe the occasional bath. Treat yo'self!

Increased Safety – Added a thermal mixing valve (aka anti-scalding device) to protect kids from burns . Also added a thermal expansion tank to reduce the risk of over-pressurizing the tank.

Enhanced Control – Onboard thermometer allows you to control the temperature in the tank . Plus put the unit in "vacation" mode so you aren't heating water when you're away .

More Resilient – Anti-Leak guard w/ automatic shutoff in the event of a leak = peace of mind that your home won't flood .

Lower Operating Costs – This beast is 3x+ more efficient than non-heat pump water heaters. Reduce the amount of money you send to fossil gas fracking by $100s per year .

More Flexible – You can choose how quickly and efficiently water is heated by toggling between high demand (faster, less efficient heating with electric heat strip) vs. normal demand (slower, more efficient heating with the heat pump). or

Smarter – Ever wondered how much your water heater was costing you? With the app, you can see your energy usage (data!) and know for sure how much that 25 min shower is costing you.

Cost Savings – In Boulder, Colorado, there are ~$2,000 in rebates and incentives for transitioning away from "natural" aka fossil gas to the BETTER electric heat pump units.
If any of these speak to you, we'd love to help YOU with water heater repair and upgrade your home with a new heat pump water heater! Elephant Energy is your go-to source for energy-efficient upgrades to your home. We make homes more efficient, cleaner, and more comfortable with heat pumps, mini-splits, EV chargers, induction ranges, and air quality improvements. Contact us for a quote today!