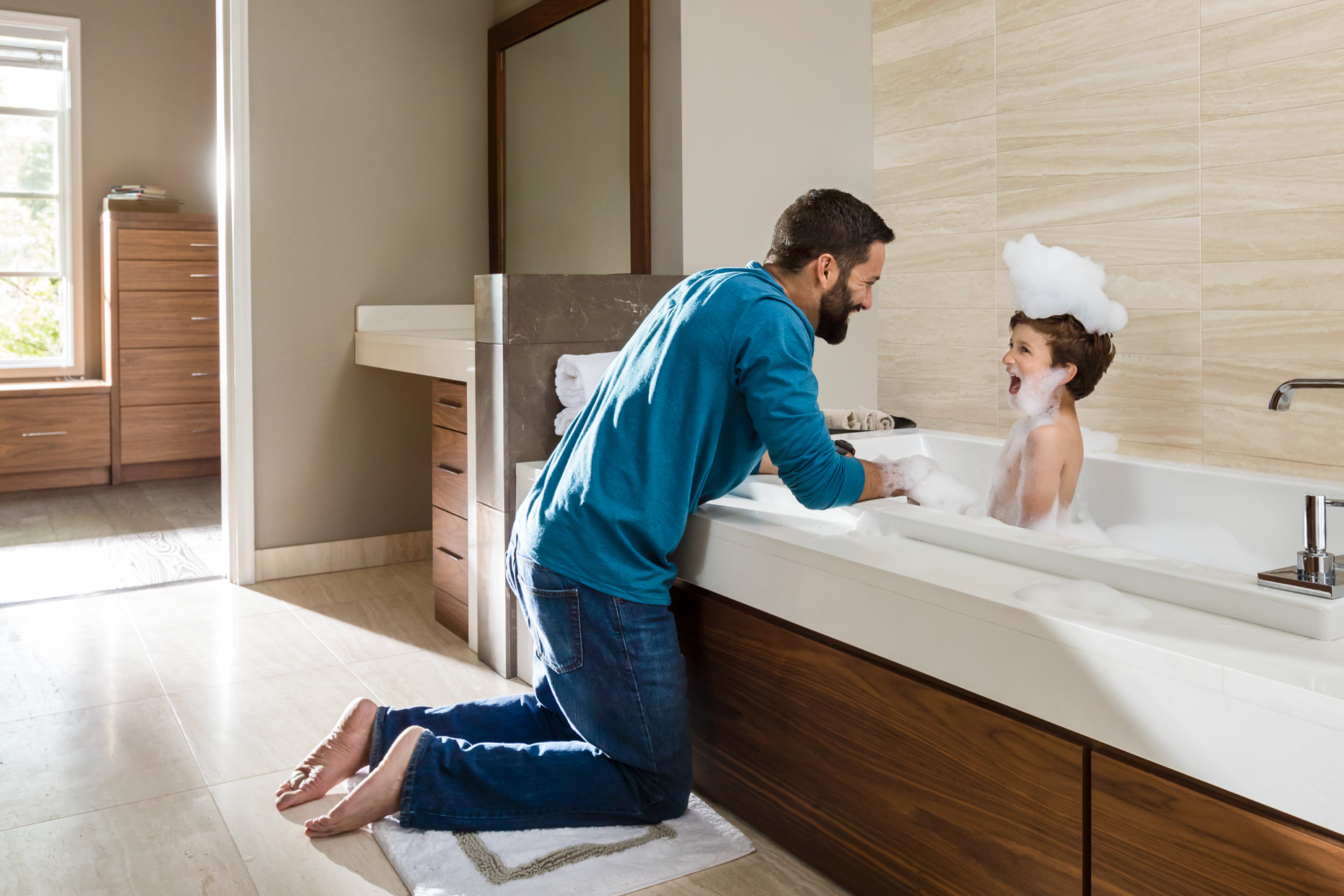 Customer: Jordan Urban
Home: Single family home, built in the 1960s
Project: Heat pump water heater
When therapist Jordan Urban and her husband moved into their new home in September 2021, they knew they wanted to make some changes.
"We knew we wanted to move it in the direction of being more energy efficient; to be both environmentally and cost efficient," Jordan said.
The ranch style home had been built in the 1960s and there were many upgrades they could tackle, each with the opportunity to choose a more energy efficient option than they currently had. 
They just had to pick which one to focus on first.
"We were thinking about our hot water heater, our furnace, our windows, our lights," she said.
After constantly running out of hot water during the first few months in their home, they decided to switch from their natural gas water heater to a heat pump water heater.
Problem
Once they made the decision to upgrade to a heat pump water heater, they realized they were out of their depth.
"We didn't know much about it and we wanted to learn," Jordan said.
They did a little bit of research and asked friends and family who'd made the switch, but there were so many moving parts. 
Which unit was the right one for their home? How did they get the best price? How did they find rebates?
They were trying to figure out the right balance between cost effectiveness and energy efficiency, but with a new baby in the house, they didn't have the time to weed through all of the information.
"We felt overwhelmed trying to integrate all of those puzzle pieces," Jordan said.
One of their friends knew about Elephant Energy and suggested they reach out for help.
Solution
Jordan and her husband needed someone to guide them through the whole process and Elephant Energy was able to do that.
"We threw all of our questions at them and they were like, 'yep, we know where you're coming from," she said.
Jordan and her husband were provided with a list of heat pump water heater options that compared the size, features, and price of each. 
"They helped us start with this vague jumble of ideas and then narrow it down," she said. "That was a really helpful piece of the process."
Once they decided on the unit they wanted, the next step was locating it and coordinating the installation.
"We would have had to call stores to find the best deal," she said. "They found the actual pump and orchestrated with the installer. They also did all the work of communicating with the installer." 
"They did all of the legwork."
"One of the services they provided us was taking things off our plate that would have taken us a lot of time," she said.
That included things they didn't even know were necessary like doing an assessment to figure out the right size water heater for their home and being there for the installation in case any problems came up.
The guidance didn't end when the installation was over. Jordan and her husband were also connected with people that streamlined the rebate application process through Boulder and Xcel Energy.
"They just really pared it down to something simplified," she said.
Results
Their new heat pump water heater is working much better than their old natural gas one.
"We definitely have more hot water, which was the original impetus for replacing our old hot water heater," she said. "We were just running out really fast."
They expect to see energy savings in the coming months once they have more time with the new appliance.
Jordan's heat pump water heater project cost a total of $3,200 and they were able to receive $1,750 in rebates.
In the end, Jordan said the upgrade and working with Elephant Energy was a no brainer.
"They're the ideal combination of something that benefits the world environmentally, but also benefits you personally in terms of saving money and time," she said.
"They can take a process that feels overwhelming and complex and help make it feel more simplified and clear."
To learn more about heat pump water heaters and how we take care of all the legwork when you make the switch, read about our
solutions
or
get in touch
.
Curious where to start your electrification journey?
Get Your Electrification Roadmap
here
! In the Front Range and want a quote from us? Click
here
to get an instant estimate!
"They're the ideal combination of something that benefits the world environmentally, but also benefits you personally in terms of saving money and time," she said.