How it All Started
In 2021, our co-founder, DR, set out to electrify his home. While home electrification options – heat pumps, heat pump water heaters, induction stoves, etc. – had been around for decades, DR found it surprisingly difficult to go all-electric. Finding knowledgeable experts, understanding what to prioritize (and when), and determining what would have the biggest impact on climate and energy bills seemed impossible to understand, let alone solve.
So, DR and his friend Josh did what any good startup veteran would do: they built a business that solved the problem they had themselves.
Their initial research clarified that there we a few specific things that get in the way of successful home electrification:
Selecting the right equipment – choosing the right equipment that you can trust to perform efficiently for many years to come
Sizing the system – ensuring your system is appropriately sized to keep your home cozy – even on the coldest day of the year
Installing everything – lining up multiple different trades is no small feat
Wrangling rebates – identifying, maximizing, and securing the myriad rebates and incentives (getting this right can make a meaningful difference in the project cost!)
And before tackling any of that, drawing up a plan so you know where to start and where you're going.
Over the past 2 years, here at Elephant Energy, we've been building a company and platform that does all of these things for our customers – starting with designing the overall plan itself.
The vision? Build the "easy button" for home electrification – so that we can accelerate this important work, giving every homeowner access to a climate-friendly home.
The Product
So, we are thrilled today to announce the launch of Your Electrification Roadmap!
Your Electrification Roadmap is your personal guide to making your home climate-friendly. With this tool, you can create a free electrification plan tailored to your unique home and goals – no matter where you live. It's simple:
Tell us about your home. We want to hear about your current systems, your electrification goals, and any concerns you have.
We build Your Electrification Roadmap. We draw from the latest thinking in building science and lays out the steps you need to take to fully electrify, in the best order for you.
Explore and demystify the process. You can dive into the details of each step to learn more about the technology, approximate cost, and the resulting carbon reduction.
Get started! We make it easy to begin your electrification journey directly within the tool. Equipment installations are currently available in Colorado and Massachusetts, with additional markets opening in 2024.
This tool – which started out as a trial version last November – has grown and evolved substantially. But trust us, this is just the beginning.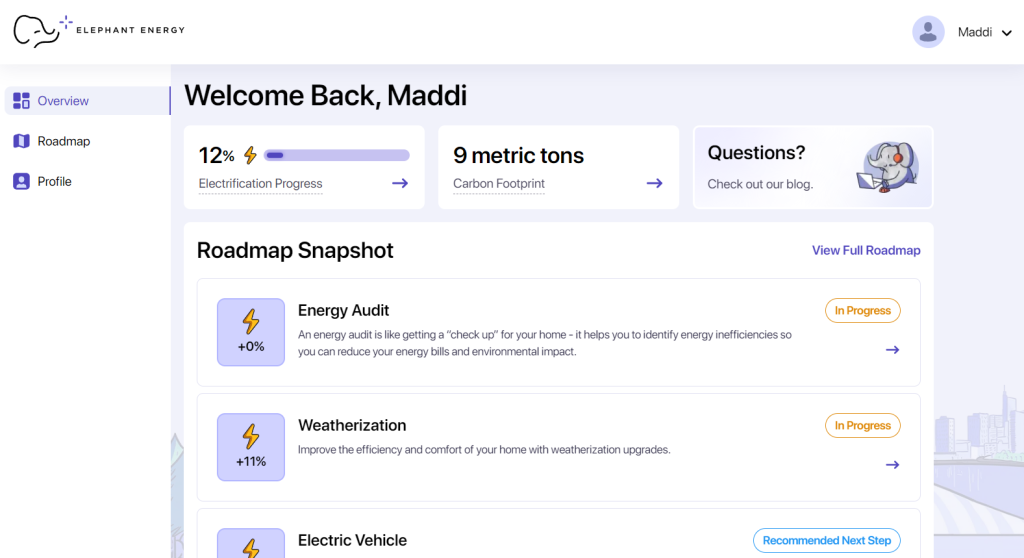 Ready to get Your Electrification Roadmap? Get started here.

On a mission make your home climate-friendly? Stay tuned for tips and updates by subscribing to our newsletter.
Why this work matters
Why is it so important to start with a plan before diving in? It boils down to a single concept: proactive replacement. What the heck does that even mean? Well, think of it this way–most people (resources permitting) would not drive their car to the point of complete failure–think, the transmission quite literally giving out on the highway. But with home appliances, this is the norm. It's way too easy to ignore the "stuff" that's tucked away in the corners and closets of your home – that is, until it's not working at all.
Avoiding Emergency Situations
Picture it. It's one of the coldest days in December, your in-laws are visiting, and…your gas furnace gives out. You've been thinking for months about how you want to upgrade to a heat pump. But now you're in an impossible position: an electrician isn't available to run new wiring for at least a month, your HVAC contractor isn't quite sure what size heat pump you need, your in-laws are complaining about freezing in the house, and you don't even know how much all of this is going to cost! So instead, you go with your HVAC technician's tried and true recommendation – another gas furnace – just to make it all go away, fast. And just like that, another 20 years of fossil fuel emissions are locked in – by someone who originally intended to electrify.
The Holistic Approach to Electrification
The point is, the industry isn't equipped to deal with emergency replacements yet. There's too much interest and demand to accommodate last-minute work right now. And, understanding what equipment you need, if your upgrades require new electrical wiring or a service upgrade, and how to pay for all of this work takes time and thought. Especially if your goal is whole-home electrification, you need to think about your home holistically… so that all the pieces of the puzzle fit neatly together in the end.
Contributing to a Sustainable Solution
The built environment is responsible for 40% of global carbon emissions every year. Every year! As homeowners, we have a unique opportunity to be part of the solution. Reducing our personal emissions matters. And, it starts with a plan.